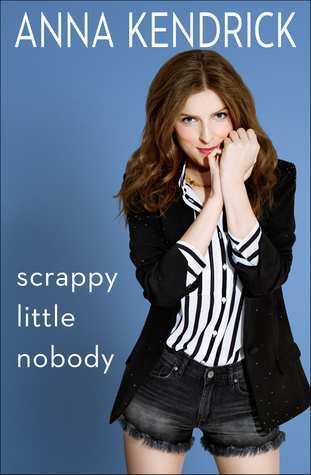 Scrappy Little Nobody
Author: Anna Kendrick
First Published: November 15, 2016
Publisher: Touchstone
Pages: 271 (Hardcover)
Rating: 4.5/5
I've always believed that Anna Kendrick was awesome. Reading her memoir just enforced that belief – and now I just want to be her best friend. Especially since she mentioned the now defunct store "Yellow Rat Bastard." I was [embarassingly] obsessed with that store for the longest time growing up.
"Scrappy Little Nobody" is basically a hilarious anthology of moments from Kendrick's journey to stardom. There are stories about being a Broadway kid, the movies she did before breaking into stardom in "Up in the Air," and what it was like being in the "Twilight" films. She also shares her experience being a celebrity, and how it's affected her life.
I really enjoyed this book – it was really funny and the stories Anna Kendrick shared were hilariously heartwarming. While her stories weren't quite relatable, her feelings in the situations provided were totally relatable and understandable. The story about having frenemies in elementary school was classic, and yet still totally relatable in my life right now. I also loved how Kendrick professes to be "the Mayor of Squaresville" – I died laughing during that entire chapter.
I also like how she organized the book in chronological order. We start off with her childhood and Broadway years, and then we follow her as she disregards college and pursues acting full time. I like that she doesn't glamorize how hard breaking into the acting profession is – Kendrick talks about being broke and never knowing when the next job will be. It's a great lesson for everybody, even if you're not in the entertainment business. We follow her journey to Los Angeles, where she's still broke but booked Twilight and called it the best day job ever. Finally, in the last section of the book, Kendrick brings up various stories of how life changed after "Up in the Air" and her Oscar nomination.
Overall, I think it was a great memoir. It's a great, silly and fun read – definitely something to read when you don't have much time or just need a quick laugh. While the audiobook might be great, the actual written version comes with pictures of Kendrick during each stage of her life. The pictures made the book all the better, and those captions really amplified her witty, sarcastic, and humorous voice.
---
TO BUY OR NOT TO BUY: Buy it. Then rent the audiobook from the library while you read along.
EXTRAS: Totally forgot I had seen this video of young Anna Kendrick on stage in 1998: